Dry SandBlasting
Dry sand-blasting is the common method of abrasive grit blasting used on steel surfaces, such as trucks, trailers and cars. Dry Sandblasting of steel will remove rust and any coatings leaving a clean surface ready to be painted. Dry sandblasting can also be used on paint removal or restoration on wood, and pools. Aeroblast Abrasive blasting commonly uses crushed glass or garnet however we have access to all blast medias when dry sandblasting.
Wet SandBlasting or Dustless Blasting
Similar to dry sandblasting, wet sandblasting or dustless blasting can be used on a range of practices such as removing paint from wooden structures, removing paint from brickwork, grit blasting concrete and sandblasting pools. When wet abrasive grit blasting water injection nozzles are used in order to reduce levels of dust. wet sandblasting helps to create a dustless blasting effect. Dustless blasting means that there is a reduced amount of dust than your traditional sandblasting methods, by adding the water this helps to create a dust free, dustless blasting process.
Road Line Removal
Aeroblast Abrasive Blasting Specializes in the sandblasting of road lines for road line removal. Sandblasting road lines for road line removal is a far more efficient way than other methods such as grinding and leaves a smooth surface rather than a thick black visible line.
Protective coatings application
Aeroblast Abrasive Blasting are the number one choice for protective coating application and industrial spray painting. From simple priming of a box trailer to heavy duty 3 coat systems of bridges or salt water immersed structures Aeroblast and its competent staff members have the experience and willingness to help. We supply and apply a range of protective coating products by working closely with our protective coating and coating applications specialists to build the right paint system for the job at hand. Protective coatings is an art that takes patience and time to do right, which is why our protective coatings team has been carefully hand picked to guarantee excellence in all aspects of protective coating application.
Concrete SandBlasting
Concrete can be sandblasted for a range of reasons, to provide a non slip finish on walkways which pose a trip hazard, to expose the aggregate to provide a decorative finish or to even write patterns or words using steel stencils into the concrete. Mobile Abrasive Grit Blasting concrete is a common practice to spice up the look of parks, driveways even walls. Aeroblast Abrasive Blasting commonly sandblasts concrete driveways for a number of reasons. Sandblasting driveways can remove the sealer, remove paint and expose the aggregate.
Timber Sand Blasting
Commonly timber Abrasive grit blasting takes place in old warehouse type buildings where the wooden roof has been damaged by fire, painted or stained, this process will rebirth the timber, making it look even better than it did new! Aeroblast Abrasive Blasting uses no harsh chemicals in their timber blasting process to ensure the wood is not damaged.
Swimming Pool SandBlasting
Mobile Abrasive grit blasting old pools will remove any type of coating be it paint or marble-sheen in a time effective manner, preparing it for painting, tiling or even pebbling. Grit blasting pools will etch or key the surface to assist in providing a stronger bond when applying the new interior be it paint, tiles or pebbling.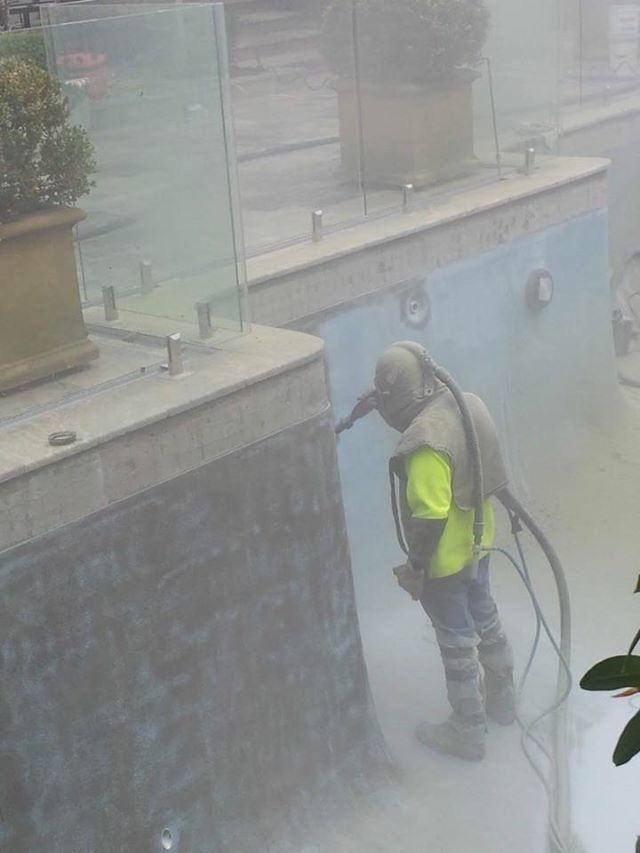 Steel SandBlasting
Aeroblast abrasive blasting sandblasts steel to all Australian Standard surface specifications to assure that correct coating application will take place. Sandblasting steel will remove any coating applied to the surface and rust leaving a clean metal finish. Abrasive Grit Blasting will achieve any surface profile required for any job using the right equiptment and blast media.
© Copyright Www.sandblastingnsw..com